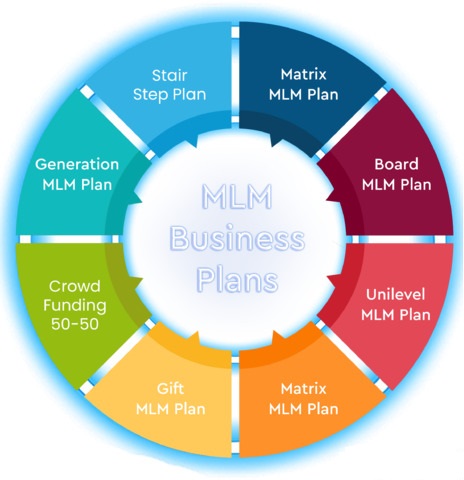 MLM business plans or multilevel business marketing strategies are an intelligent arrangement of the strategy or overall organizational concept of an MLM company which then moves towards the business goals of the company.
MLM (multi-level-marketing) is a marketing business that offsets its organizational member or agent who willingly joins the network marketing business by becoming a member, and that membership can be paid or free as per the organizational business plan.
This is a standard business practice in the network marketing business to provide its agents or participants with earnings in various ways as per the MLM compensation plan. Although the compensation plan for MLM is the backbone of any company of any comparative marketing business.
In the network marketing business, there are several MLM schemes or proposals with another software architecture.
What kinds of MLM plans are there nowadays, or the most popular MLM plans?
Unilevel MLM plan
Unilevel Plan for network marketing companies is very simple, most popular, understandable and attractive. All standards in this plan are strong and decrease the chances of chasing the tail anymore. Unilevel plans go up to one level down and each member is willing and free to hire as many people in their respective downline as a member wishes. Unilevel Project is the most welcome and favorite project for MLM groups as well as the leaders.
Binary MLM plan
Also, the most common plan among the multi-level marketing business sector is Binary MLM Plan. In the Binary plan, any participant or agent in his downline can recruit two persons and both legs can be called his right leg and left leg. In this binary tree, both downline members will generate business, and income will be generated and distributed in accordance with the organizational compensation plan. Similar to other programs the binary program produces full returns and incomes. Most of the network advertisers, part-timers and participants who want to earn money from multilevel marketing companies prefer Binary plans to other incentive systems.
Matrix /Forced Matrix MLM plan
Matrix MLM Compensation Plan is also among Multilevel Marketing Business's main and most valued plans Also known as the Matrix Business Plan is a forced matrix or ladder plan. In expanding the tree according to the necessity, the matrix compensation plan supports, and this comes with multiple functions. This particular distinctive compensation plan has a defined or restricted width and length, so recognizing matrix plan features helps to use it correctly and matrix plan members are paid until they meet a fixed or set point.
Investment MLM plan
Another more popular lucrative MLM Business Plan is the investment MLM strategy. Investment plan provides the participants with a secondary compensation income. Pursuant to this business plan, Investment Plan is to invest in the past and gain in terms of royalty income at an ever-increasing rate of revenue. An investment strategy, most MLM companies offer their participants a percentage of money on a regular daily basis based on the type or amount of their investment in the business.
Generation MLM plan
The finest example of common global MLM compensation schemes is the generation scheme. All downline members or agents can be seen as distinct rates in this plan and this plan is generally based on the business model of revenue sharing in which income is distributed among all participants according to the organizational business plan. This strategy can be regarded as the most successful plan in the multilevel business marketing industry. This system is also known as the repurchase or generation gap policy in certain specific areas. Though MLM Generation Plans are not as easy to understand as some other simple MLM business plans.
MLM generation plan is a bit complicated to understand for ordinary people compared to other compensation plans but this plan comes with some other great features that make this plan acceptable and popular in network marketing. A member is paid up to several levels in this package, and the scope of the rates also provides a member with an added benefit to improving salesmanship and profits.
Monoline MLM plan
The Monoline MLM plan is widely known as the Single Line, or simple one-dimensional Network Marketing Compensation Package that holds one leg for each participant. Multi-level marketing plan Monoline is a very common and trendy present-day strategy. You will not find any form of ceiling or capping in Monoline, and no required level of the business compensation plan to apply for MLM.  In the Monoline scheme, timing is the most important thing because this program is entirely based on a ' first come & first serve basis. This quality makes this plan very famous in the network marketing business and is known today.
Stairstep MLM plan
Often known as stair step break-away or simply stair-step business plan, the Stairstep MLM package is widely known as. MLM Stairstep breakaway plan is still in use and used in the MLM world as one of the classic payout plans. The most significant feature of this plan is its right to break away. In this method, if any employee or agent reaches a certain level in accordance with the corporate business plan and is then qualified for another level, he will receive the bonus for this job but objectives will be set to be met in accordance with the business plan.
Gift/Donation MLM plan
Often recognized as a donation package or crowd-funding plan is the MLM gift program. MLM firms use various terms or names depending on their business strategies for the gift or donation plan. The rationale behind MLM's donation plan is to donate a member in their respective MLM chain and to get gifts from other members in exchange. That gift can be given one to another in terms of money. Donations can be given to each other in the same way, and some amount of money can be charged from the members as company expenses or money for registration.
Conclusion :
MLM is a very famous company today, a day that is very different from other business models on the market. With very minimal investment and hard work, anyone can achieve success in this business. Income chances are very high because there is no need for any single company to invest money in advertisements and traditional marketing strategies.
However, each Network Marketing (MLM) company has its unique and separate business compensation plan to compensate those members who have joined the company willingly. The run-of-the-mill aspect commonly found across all MLM business plans is that the company arrangement plans to pay out to its employees or members hypothetically from a few potential royalty schemes only. Our support in MLM business will be successful as MLM software provider, supporting payment transactions and adding module to facilitate any individual business manual process
Our Supporting Areas:
Tamilnadu: Chennai, Coimbatore, Trichy, Karur, Madurai, Erode, Salem, Tirunelveli, Vellore, Kanchipuram, Kadalur, Kanyakumari
Kerala: Palakkad, Thrissur, Kollam, Alappuzha, Kannur, Kozhikode, Munnar, Cochin, Kottayam, Thiruvananthapuram