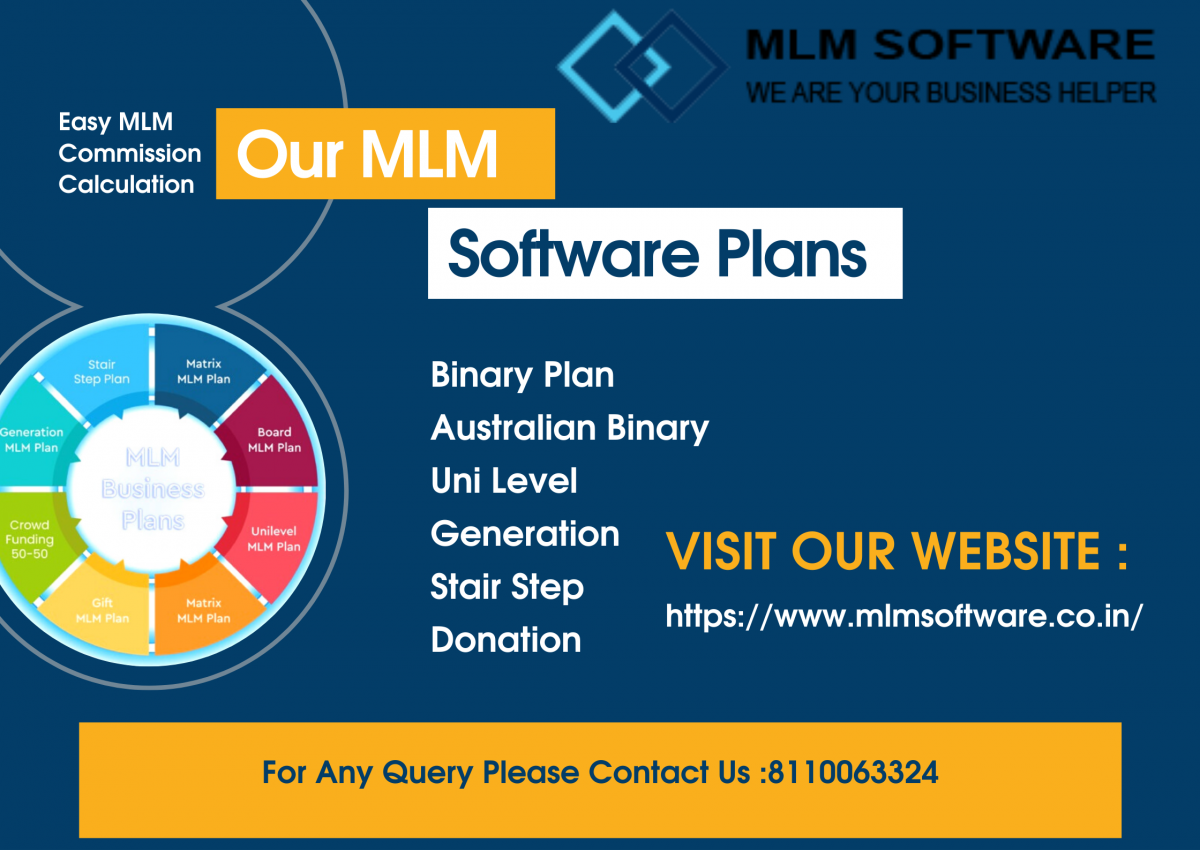 Businesses' major goal is to keep their consumers comfortable and satisfied. At a time when businesses are becoming too focused on the client, competition has only increased. In addition to modifying client behaviour in the aftermath of the pandemic, direct-selling companies have discovered new approaches to preserve strong customer connections.
The key to retaining long-term customers
We are not limited to what we excel in; we also look for methods to assist the community succeed at what they do. In addition to the techniques to assist the community in attracting and maintaining consumers, we have prepared a few technical ideas from our field of expertise to assist you in practically implementing the tactics in your direct selling business.
So, what is the key to increasing client retention?
In this era of transformation, every business is founded on its consumer component. The key, though, is to produce and provide value that leaves a lasting impression on your organisation, as well as to devise strategies to convert this gained customer value into corporate value.
The top secrets of direct selling for client acquisition and retention
Don't take chances with your consumers; instead, get to know them well.
Provide high-quality goods and services.
Adapt to changing client expectations on a regular basis.
Deliver value in the manner desired by your consumer.
Investigate new client kinds and trends.
Whoever learns these principles quickly will undoubtedly earn a position leading organization toward excellent client acquisition and retention. To be effective, however, one must understand the many routes that should be used to apply these secrets.
There are eight techniques to boost client acquisition and retention:
1.Give your customers a warm greeting:
First impressions are, without a doubt, the finest impressions.
Welcome your consumers with an exciting new brand experience that they will remember for the rest of their lives. Maintain a straightforward and efficient onboarding process.
In the beginning, learn about your consumers' preferred channels for interacting efficiently and in real time. Increase your adoption rate by leading customers through their full onboarding experience with lessons, offer guides, and other product information that can be retrieved.
Tips:
Create interesting progression bars to show them where they are in the process.
Don't forget to provide a skip button in your courses in case they are explorers rather than learners.
To create a unified, transparent space for communication and collaboration
2. Give them a hyper-personalized customer experience:
It provides customers with a highly personal client experience.
Customers enjoy being spoiled. In today's changing market circumstances, customers increasingly seek the level of customised experience a brand gives, as well as the quality of their products and services. Today, that is a rival component.
Consolidate your client data from several channels into a single source. Segmenting consumer data based on their prior actions' demographics and psychographics can help you better understand their interests and provide them with an accurate data-driven experience. This reduces "option overload" and offers the items that your clients are looking for.
Establish one-on-one connections with your consumers to learn about their wants and preferences, and communicate effectively across their preferred channels to surpass their expectations. Contextualized dialogues and personalized offers may sweep your clients off their feet and make them fall in love with your company all over again.
Tips:
Enhance your CRM and web analytics data to create a data-driven architecture for your customer experience strategies.
Create reports, analyse data, and give insights to assist your sales team in better serving your customers.
With clever and scalable outreach techniques, you can identify your customers' expectations.
3. Engage, don't enrage your customers:
Leave no stone unturned when it comes to actively engaging your customers, because they love being valued. Share the life inside and outside your organisation with your customers; let them feel the warmth of your success in every attempt you make to connect with them—calls, messages, email, social media, online campaigns, mobile apps, etc.
Engage them in every possible way and take care not to earn their wrath.
Leverage all the available channels to establish strong connections with them. Keep in touch with your customers and make them feel connected to you with personalised messages and offers.
Remember not to bombard them, but to entice them to return for more!
The 5 Most Effective Customer Engagement Strategies
Introduce interesting and personalised reward programmes to attract them.
Through referral programmes, you may build mutually beneficial connections with your clients.
Find influencers that are a good fit for your company and keep them engaged through innovative marketing.
Launch attractive promos and special offers.
Increase client satisfaction with VIP programmes like as unique content, complimentary goods with every purchase, free delivery, or access to sale events.
Tips:
 Monitor the performance of your influencers and campaigns across platforms.
Make it simple for your consumers to redeem their awards by creating a special rewards page with aesthetically attractive graphics and impulsive CTAs.
Configure reward rules and expiration dates on an automated reward system so that the continuing offer is automatically cancelled after a specified period of time.
Use your rewards and loyalty analytics dashboard to gain significant insights that will help you improve customer engagement and retention.
4. Activate your inactive customer interests.
One or more of the following factors may cause a consumer to become inactive or uninterested in your services:
A decrease in a product's or service's quality
Products with exorbitant prices
Customer service is subpar.
Unaware of the advantages your brand provides,
Inadequate customer outreach
If your company tries to check any of the above boxes, you will undoubtedly see a drop in client numbers.
Implement remarketing efforts with rapid and automated messaging to decrease drop-offs. Cart abandonment may be reduced in your direct selling ecommerce firm by encouraging consumers to finish their purchase by highlighting offer deadlines or insufficient product availability.
Your company's brand
Replacing segmented message threads with real-time conversation technologies such as chatbots or click-to-call buttons boosts the consumer favorability of your brand.
Knowing the worth of your product or service may keep clients loyal to your brand. Through email campaigns, social media, and tailored product catalogues, educate them about the benefits of your product in their lives, tell the narrative behind your product, and differentiate your product from your rivals'.
Tips:
To grow your subscriber list, provide out-of-the-box membership programmes, free shipping incentives, and product discounts.
Utilize social selling technologies to launch multi-channel product awareness campaigns.
Display a product development video on your website to increase transparency and win your buyers' respect.
5. Create a brand community
Everyone enjoys being acknowledged in society. Brand identity is important to customers just as much as it is to businesses, from the toothpaste they use to the vehicles they drive.
Create brand communities, both online and offline, and ask your users to join. Launch brand events, exclusive discounts, and personalised rewards for your beginners.
Turn your consumers into brand ambassadors by making them feel responsible for spreading the word about your company in their social circles. Give them a reward for each new member they bring in, and raise their spirits with personalised and shared coupons and attractive incentives.
Encourage people to share their brand-related experiences on social media. Share success stories and recognise your current customers; when they see social proof of your brand's success, they will be more likely to take the chances you provide. Celebrating your customers' special days, personal milestones, and accomplishments helps them feel more special and valued. Make your clients happy by giving them bonus points for purchases made on their birthdays, anniversaries, or other special events.
Our tech Advice:
Notify them and give them unique greetings and offers to celebrate their special day.
Make your greatest customers feel unique by sending them personalized event invites.
Use e-brochures and pamphlets to educate them and keep them up to date on your brand.
6. Know your customer feedback
Understanding how your consumers see you will go a long way toward securing long-term client connections. Listening to your consumers will help you understand their brand experience, expectations, and views. Making them right can drive your client happiness to new heights.
Engage in heartfelt interactions with your clients to better understand their problems and achieve speedier remedies. Reduce customer attrition by ensuring your customers have access to help 24 hours a day, seven days a week. Be a source of strength and comfort for your consumers; listen to them in order to address their problems and resolve issues more quickly.
Tips:
One-click calls, chatbots, and an automated inquiry system will assist you in increasing response rates.
Occasional surveys, feedback monitoring, and net promoter shop tracking may provide you with a comprehensive insight of your customers' feedback.
Mobile Apps can effectively address your clients' buying demands at any time and from any location.
7.  Serve, protect, and satisfy your customers' needs
With online fraud wreaking havoc, your clients will want to feel safe and secure in their interactions with your company. Trust is what keeps customers loyal to a company, and in order for trust to grow, your customer must feel at ease and secure with you.
Assure them that their data is safe with you, and explain how you manage it with care and for what reason. Even your cookie pop-up can assist you in communicating this to your clients.
Educate customers on your compliance requirements for safeguarding their personal data and payments, such as the CCPA, GDPR, PCI DSS, and DDoS, via your website or social media platforms. Use emails, SMS, or app alerts to identify and notify you to unusual activity in your client accounts.
Give them the assurance of your assistance by allowing them to contact you via the channel of their choosing, and assure continuous attention to your clients across all channels.
Tips:
Enhance customer trust by allowing secure data authentication to protect your customers' data and accounts.
Using Two-Factor (2FA) or Multi-Factor Authentication (MFA) in transactions might assist enhance their confidence.
Contextual dialogues with fast access to specific customer service history enable your personnel to provide an amazing client experience.
8. Customer satisfaction should be measured
Customer satisfaction is no longer measured with a simple "Are you satisfied?" question. It is a complicated process of balancing their choices, thoughts, and actions. Seasoning these with the correct CX tactics might result in a higher level of pleasure.
Social media is an ever-changing platform that detects your customers' thoughts towards you. Monitor your clients' complaints and praises, and reward them with enticing campaigns and offers. Examine customer behaviour and brand references across all media. Transform these findings into improvement plans to provide an exceptional client experience.
Everyone despises waiting! Reduce client wait times before they locate someone else who can do it. Pay close attention to identifying and resolving consumer questions and problems as soon as possible.
Everyone despises waiting! Reduce client wait times before they locate someone else who can do it. Pay close attention to identifying and resolving consumer questions and problems as soon as possible.
Tips:
Conduct surveys to determine customer satisfaction (CSAT), net promoter scores (NPS), and customer effort scores (CES).
To interpret consumer attitudes, use natural language processing tools.
Provide them with complementary product training and support.
Train and educate your distributors to deal with your consumers wisely.
Conclusion:
Direct-selling companies must recognise the importance of having genuine clients. With FTC requirements circulating, direct selling organisations must focus on creating actual sales to real clients rather than wholesale purchases made by their salesforce since they are the ones who will stay with you the longest.