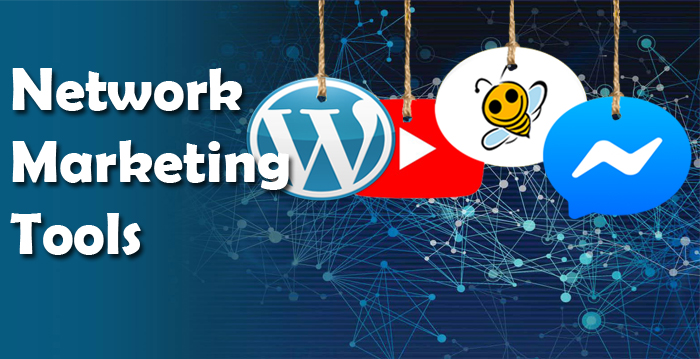 Marketing is important regardless of the business you deal with. Proper communication allows new creation and brings something new to the company. Network marketing is a popular business model with a great opportunity
In a network marketing business, not all distributors are marketing expertise. The basic concept is to train them with adequate preparation. But now, need to schedule for an online presence in a regular basis to get enough training and product information.
Finding targeted customers has become simple, and internet users are skyrocketing forever. The need for proper marketing resources is now an essential masterpiece in the marketing world. Let's see the top 10 must-have marketing tools that need to be used in network marketing to find a productive path.
Social Media Promotional Tools
Network marketing practitioners may use these social networking resources to reach more people by providing motivation for joining the network. People like to survive in their lives, that's the fundamental concept of our lives.
Day after day, we're all hunting for those possibilities. So, if you can make good use of social media as a communication medium, you're going to activate people's desires.
Lead Capture Pages & Campaigns
Lead pages are a strong method of finding prospects, it's like a pull to draw more leads. A lead page generally comes with a neat interface by having a contact box that supports some meaning for users to fill in their information.
This is one of the best networking strategies used to inspire more people to be part of the network marketing business.
Email Marketing
If you haven't read my previous posts, then you must because I've given the relevance of email marketing to many sectors of the network marketing environment. It's a conventional approach of special appeal, and it was the perfect way to find more participants.
Check my previous blog about the Importance of Email & SMS in MLM Sales.
Replicated websites
Yeah, a website is important and a distributor website is important in terms of network marketing! A replicated website includes a comprehensive unit where the dealer will be able to control their entire network effectively.
Control can be offered to them by means of content marketing techniques. Daily blogging that offers insightful material can take a look at items and direct and help others.
Graphic designing tools
Another tool to market the network marketing business is to provide proper design-based promotions. What if you would render pre-built template designs? All you need to do is drag and drop the banner image, type the text, post, and share it anywhere with a connection to the link.
Graphics is essential and graphically appealing concepts help people learn what you're trying to deliver.
Interactive video explanations
People are offered a chance to insert their interactive video on their website (distributors and companies) in various ways. They can incorporate video as a guide around your whole company as a material table or as an expert sales video, an introduction to your goods and deals, and even more.
Be creative to do this, people want to see new ideas that perform well for them. Navigation from the simple elements to the advanced side surrounds the presentation neatly.
Webinars
If you are an MLM developer or an MLM company, make sure you offer free webinars to people of interest. That too will add more experience to your business.
People are looking to find new ways to do this. Here's a fascinating thing People all around the world love to attend a marketing webinar, which is of course one of the best marketing tools.
Learning platforms
Learning platforms are something like a teaching module that is essential to the marketing process, and indeed it is a marketing tool that is useful enough for the whole enterprise network from top to bottom. Distributors require proper preparation to succeed in their path to success.
Online sales boosters
The final campaign tool is called 'on-line sales boosters.' In addition to the above strategies, there are several ways to sell a product and reach out to consumers.
Offer further sales and more strategies, using the technologies really well. For eg, a chat app gives more perfect consumers. Interactive Forums and chat groups are other tools.
In short, all of the above marketing tools boost revenue and all you need is a structure that gives you the power to handle them in one location. It's hard to handle items from different locations, and Team MLMSoftware.co.in has taken everything together under a marketing suite.
You can easily view and use any of the above from a dashboard. Network marketing companies and marketers should use all the resources more effectively.